Under the direction of Stella Rollig, the LENTOS Art Museum has long since made its way into the Digital Age. She hopes the general public will become more cognizant of this in the wake of Linz's appointment as a City of Media Arts.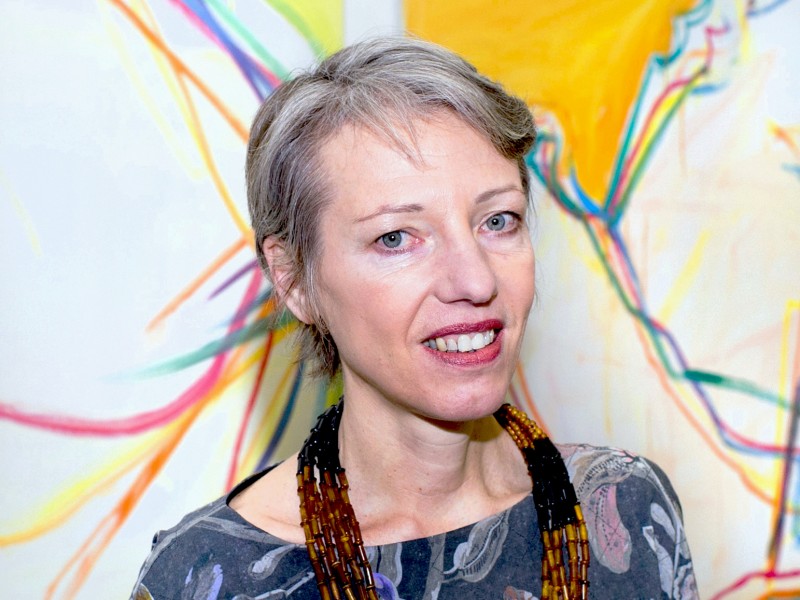 How do you regard the LENTOS within this Linzer context that's quite strongly influenced by media art?
Stella Rollig: If one speaks of Linz as a city in which media art has assumed a position of great importance, then one thinks of the Ars Electronica Center and Festival, which, of course, have been driving forces and played a defining role in this field.
The LENTOS is a museum of visual arts, modern and contemporary art. Since we see our self as a very contemporary museum, we've also long regarded our identity as far removed from the conventional conception of a museum. What is still strongly associated in people's minds with the concept of a museum actually no longer corresponds to the current reality of museums. People think in terms of quiet exhibition halls in which objects are arrayed. And, of course, this is so, and this is also the strength of a museum: the possibility of immediate encounters with authentic works of art, with originals.
But every museum carrying out its mission in a contemporary way today is active online, takes a reflective approach to our digital reality—whereby I consciously employ a paradoxical combination of terms. Museums are active on all social media channels, though I must delimit this generalization: not all museums. We lay claim to the role of a leading-edge museum, in an Austrian as well as an international context, and we don't just employ the usual social media channels as means of communication and marketing instruments. For example, we also have our own exhibition online, we interlink the exhibition space with the Web. And then there's the exhibition of treasures from our graphics depot "Zu schade für die Lade" [Too Good to Hide] and interactive games like "Collect Me" in which users can cull images from our collection to assemble their own portraits. So, we're active in and with digital media in many ways.
Needless to say, the LENTOS has been a contributor to Linz becoming City of Media Arts.
As such, we as an art museum feel good in this town, in a City of Media Arts, and we don't believe at all that we now have to take a leap into the new age of Linz as City of Media Arts. Rather, LENTOS has, of course, been a part of this development all along.
So, your artistic and cultural environment has indeed had an influence on how you define your role. There have also regularly been collaborative undertakings with Ars Electronica during the festival …
Stella Rollig: Yes, of course, LENTOS is delighted to be a festival venue. When I began my tenure here and had a chance to engage with Gerfried Stocker, it was immediately clear to me that that's how it ought to be and this benefits our facility. The collaborative arrangement has been going on for 11 years now! We've hosted a great exhibition in conjunction with every festival. This has become an established feature, and I think it's good for everyone involved. We're delighted that festivalgoers visit the LENTOS and see what we're doing here.
But it's also not a bad idea to host an exchange among these "old" media and the new ones, as well as their audiences.
Sometimes, it's simply the case that our featured exhibition is one in which media art is more prominent—for instance, the VALIE EXPORT show or other themed exhibitions that include, as a matter of course, not only media art installations but also online projects. Then again, in other years, perhaps we feature the works of a painter. But it's also not a bad idea to host an exchange among these "old" media and the new ones as well as their audiences.
When the VALIE EXPORT Center is set up in Linz, what role will the LENTOS be playing? What does this mean for the LENTOS? Isn't this a milestone in Linz's development as a City of Media Art?
Stella Rollig: This is indeed a major milestone. It's really wonderful that the City of Linz has decided to acquire the artist's personal archive and collection. And LENTOS will have a role to play in this. For one thing, the entire collection, as well as all the works that will be supplementing it over the coming years, will be entrusted to the LENTOS. This collection includes a number artworks, including some very important pieces such as a series of Körperkonfigurationen and Die un-endliche Melodie der Stränge, a key work by VALIE EXPORT, a multi-part video work. There are also pieces in this collection with which the museum will work like we do with all of our holdings—we'll exhibit them, possibly loan them out, integrate them into themed exhibitions or in presentations of our permanent collection. So, our curators will be able to work with them.
I think it's very important that the museum operates its own research facility—after all, the core of the museum's identity is to serve as a place of scholarship and research.
But the large archive and the library will be physically housed in the Center itself located in the Tabakfabrik and not at the LENTOS. This will establish a basis for research activities that will be carried out by the Art University. I feel it's very important that a museum—in which, after all, there's this constant threat of research being neglected for the familiar reasons involving a lack of resources—operate a sort of research facility of its own in cooperation with a university. After all, the core of the museum's identity includes serving as a place of scholarship and research. And especially a figure like VALIE EXPORT and a center whose work will focus on VALIE EXPORT's achievements and proceed on the basis of them—she in particular embodies a conception of art that she co-developed and significantly shaped. And this happens to be one of great interest to the LENTOS—namely, socio-politically committed art, conceptual art, a feminist view of the world that, as I see it, always goes beyond the pure question of gender and the simplistic statement that "Women are just as good as men" and poses the question of justice, equal opportunity and recognition.
When I think of exhibitions that we've produced here—for example, "See This Sound" which we put on quite a while back, or a recent one, "Reines Wasser," that dealt with ecological issues—we at LENTOS have employed artistic means to stage a confrontation with topical issues. But in the future, we'll also be working in the Center. I think the two complement each other very well.
In the Center, there'll be a research facility where third-party research projects can be carried out, and it's my fervent hope that these endeavors will include close collaboration and intellectual exchange with our scholarly staff so that this results in reciprocal stimulus and makes a positive impact on the LENTOS' lineup of exhibitions.
Consider a hypothetical example: a Ph.D. candidate who's doing research on material at the VALIE EXPORT Center for a thesis entitled "Feminist Performance Practice, 1974-79" and who has the resources and wherewithal to produce an exhibition on the basis of thorough scholarly work. Perhaps the young scholar had only been thinking in terms of her dissertation, and we say to her: Wouldn't this be a great concept for an exhibition? And with our know-how when it comes to lining up loans from other collections, acquisitions and, of course, exhibition architecture, etc., we could make a terrific exhibition out of this. This will be the source of wonderful opportunities.
What's your long-term view of Linz's UNESCO City of Media Arts title? What do you expect?
The effect of this title will be a modicum of impetus and, of course, a certain framing of external perceptions.
Stella Rollig: I expect big things to happen. At the start, there's always a certain degree of skepticism, but when I consider everything that came about in Graz as City of Design. I think that Graz really made the most out of this title and reinvented itself—and perhaps it was only over the course of time that it really and truly filled this title with content. In Linz, superb preconditions are already in place, but I think that the effect of this title will be a modicum of impetus and, of course, a certain framing of external perceptions. In other words, now that Linz has this City of Media Arts title, people will now take a closer look and perhaps they'll—to put this in terms of an example that has to do with us—take more notice than before of the LENTOS' digital activities. Now, we occasionally get the feeling that we know we're on the cutting edge with our digital and online activities, that we're world-class when it comes to educational outreach, mediating visitors' encounters with content, etc. But sometimes it's kind of tough in a small city like Linz to spread the word, to get the message out to the world. And then you read somewhere that the Belvedere in Vienna offers visitors tablets with interactive content to accompany them through the exhibitions. And I think: My God, we've had that for years already! Maybe people will take better notice of things like this in the future.
Further reading: Interview with VALIE EXPORT