Christine Schöpf, co-founder of Ars Electronica, honorary chair of the UNESCO City of Media Arts Advisory Board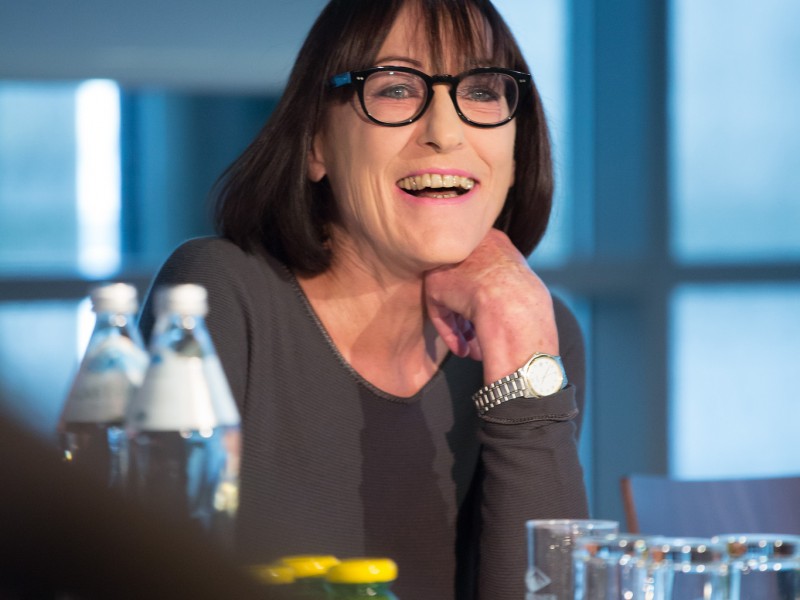 What do you see as having been the key milestones from Ars Electronica's inception until Linz's recognition as UNESCO City of Media Arts? And what collateral developments were triggered in the process?
Christine Schöpf: Considering the chief protagonists in Linz cultural life in the years immediately after Hannes Leopoldseder launched Ars Electronica—albeit with the exception of Mayor Franz Hillinger as well as Brucknerhaus directors Horst Stadlmayr and Ernst Kubin, who were committed supporters during those formative years—it was absolutely inconceivable that something like an Ars Electronica network or a media arts network could emerge in Linz.
I distinctly remember a meeting in the early 1980s with the city's head honchos in cultural affairs. We thought it would make sense to broaden the Ars Electronica Festival's base beyond the Brucknerhaus and the ORF – Austrian Broadcasting Company's Upper Austria Regional Studio, and bring in other municipal cultural facilities as associates. This was like running up against a brick wall; total rejection! Nobody wanted anything to do with Ars Electronica; they shunned us like the plague. And I still recall how, even in the '90s, Peter Baum referred to the Ars Electronica Center—today by far the most successful museum in Upper Austria—as a "ridiculous little emporium."
In the meantime, the attitude prevailing among the city's current cultural affairs decision-makers is completely different. The Art University, LENTOS Art Museum, OK Offenes Kulturhaus, Architekturforum, Stadtwerkstatt and other cultural institutions in Linz have not only become proficient, independent partners of the Ars Electronica Festival; each has since developed a new-media-based niche all its own.
Many cultural institutions in Linz have since developed a high media competence profile.
For example, that the Art University would subsequently develop into a school for media was unthinkable back then. And I think it's great that the Tabakfabrik has emerged as a new hotbed of the creative spirit and how that's progressing. Now, we have RISC and the Softwarepark Hagenberg with the Universitiy of Applied Sciences Hagenberg  and the University of Applied Sciences in Wels in the Linz Metropolitan Area. In my opinion, this proliferation represents a key step in the direction of developing a high profile for the entire region. I'm convinced that Ars Electronica has been a catalyst here and, naturally, I see this in a highly positive light.
So, that's the view from inside, my take on local/regional facts and circumstances. But you also have to take into account the broader perspective. After all, a key division of Ars Electronica is the Futurelab with its R&D work that, over the years, has included assignments worldwide—exhibitions, speeches, festival productions, conceptioneering, projects, joint ventures—that have enabled Ars Electronica to make an international name for itself as a media art institution. And needless to say we're especially pleased that these achievements have now been acknowledged by UNESCO bestowing the City of Media Arts title on Linz!
There used to be talk about the Spirit of Linz. What was that? What was so special about Linz in the early days of Ars Electronica?
Christine Schöpf: This term was coined by one of the first Golden Nica prizewinners, Brian Reffin Smith. His point was that so many things are doable in Linz—the Ars Electronica Festival, the Prix Ars Electronica—that are simply impossible in other cities. And what an extraordinary feeling materializes every year when all these nerds, scientists and artists convene at the annual festival! That's when this spirit really reaches a crescendo! The Spirit of Linz truly was nurtured by a lot of individuals. That went so far as people providing accommodations to guests in their own homes. Back then, this Spirit of Linz focused especially on the festival, particularly on the very fact of its continued existence over so long a time! In the meantime, the support has become much more broad-based.
You're one of the two honorary chairs of the UNESCO City of Media Arts Advisory Board. What does this mean for you personally? And what's the larger significance?
What can the UNESCO Network do in response to issues having to do with the ongoing development of the Digital Age?
Christine Schöpf: First of all, I personally am quite curious to see what comes of all this. If I appraise this critically, then the UNESCO City of Media Arts title is just a label that we can be proud of. Linz is proudly displaying the UNESCO logo. We're proud to be a City of Media Arts, a member of UNESCO's Creative Cities Network. But that can't be all there is to it.
The truly fascinating aspect of this is the network that these Creative Cities can form and utilize to develop strategies for working within the network and collaborating with the other members. Accordingly, cooperative arrangements should be articulated on various levels.
What I personally see as the biggest challenge for the future—and this is what makes it really interesting for me—is to find out what this network can do when it comes to issues involving the further development of the Digital Age. I mean, let's keep one thing in mind: At present, we're about midway through the Digital Age. So then, what strategies are called for to deal intelligently and competently with this development, one that there is undoubtedly no holding back? The theme of this year's Ars Electronica is Post City, which thus affords an opportunity to address this larger issue by focusing on urban development. And the UNESCO Network is already going to be actively involved in this in the form of workshops—thus, joint consideration of these matters.
And how do you envision Linz 10 years from now? Will Linz be the Super Media Art City?
I recall a rather critical article I wrote in conjunction with Linz 2009 European Capital of Culture, in which I stated: Linz has Ars Electronica and that's marvelous, but that can't have been all! Perhaps it's not the best example right now, but when it comes to decorating the interiors of public buildings such as City Hall, the city still has recourse to so-called analog "flatware." Now, I don't want to come across as overly critical—after all, Linz was so quick to install hotspots, WLAN is available pretty much citywide, and there have been lots of notable accomplishments with respect to the municipal government's online platforms. An item high on my wish-list is a department of media philosophy, ideally at the Johannes Kepler University. So there's still a lot to do so that Linz can continue to develop as a city of media and not just rest on its laurels!